Create amazing & yummy desserts like a pro!
Introducing our Easy-Roll Cake Baking Mat - a new baking accessory that is worth a try! This unique baking tool allows you to adorn a beautiful pattern on your cake quickly and mess-free!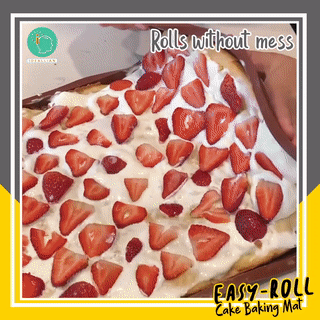 Naturally designed non-stick for quick release of food, conveniently reusable, and easy to clean with no greasing or added oils necessary. It can stand temperatures from freezing up to 450°F and is microwave-safe.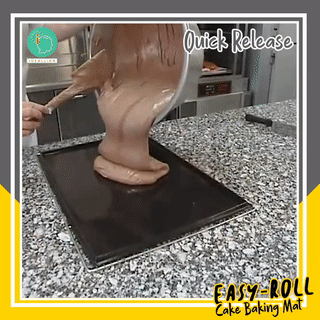 This rolling mat is made of high-quality, 100% FDA approved food-grade silicone; non-toxic and eco-friendly. This mat is perfect for making roll cake, bread, dough, and other pastries for the whole family to enjoy! Bring a whole new level to your baking experience!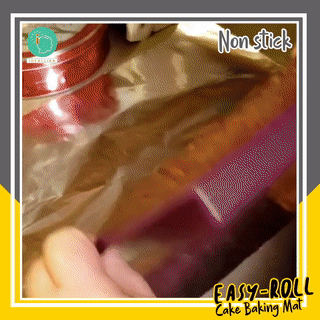 FEATURES:
Perfect & Flawless Swiss Roll:
This is specially sized and designed for baking beautiful Swiss rolls without mess!

Easy Homemade Pastry:
The flat baking mat ensures a smooth surface of your cake.

Premium Material:
Made of high-quality, food-grade silicone, 100% FDA approved that is non-toxic, flexible, reusable and durable.

Easy-Release Design:
Made of flexible, non-stick material that allows you to easily release the dough in just 10 seconds without damage & mess.
High Temperature Resistant:
Temperature safe; it can stand temperatures from freezing up to 450°F and is microwave and oven safe.

Easy To Use & Clean:
This is stain and odor resistant that makes cleaning it a breeze.

Healthier & Multifunctional:
It can be used as a non-stick baking mat without using cooking spray oils, fats, parchment paper, etc.
Wide Application:
The mat is great for making cake roll, pastry, cookie, fondant, sushi, etc.


SPECIFICATIONS:
Material: Silicone

Size: 31cm x 26cm x 0.9cm

Weight: 136g

Temperature Range: -40℃ to 240℃

Color: Brown, Blue, Green, Orange, Red
PACKAGE INCLUDES:
1 x

Easy-Roll Cake Baking Mat