Capacity 60-100 ml Heat Resistent 150°C Direct Heat on Stove ✖
Diameter 7-9 CM Food-Safe

✔

Direct Heat on Stove ✖
Depth 3-5 CM Dishwasher

✔
Product Features
+ High Firing Temperature (1300 Celcius)
+ Heat Preservation & Improve the Taste
+ Over 72 Hours of Precision Handcrafting
+ Own a Masterpiece in Teaware Industry
+ Ideal for Art Collection
+ Elegant Gift Item with Gorgeous Box
+ Perfect Use for All Occasions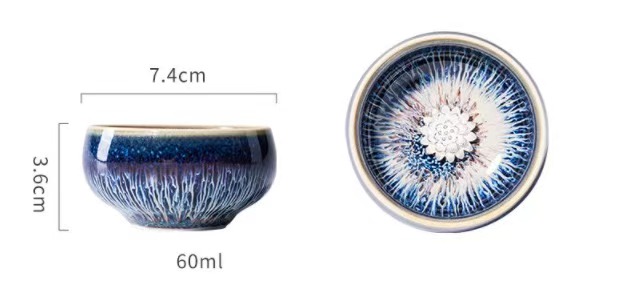 Notice: Due to the transmutation in kiln, the pattern on each teaware will be slightly different. Therefore, every Jian zhan Tenmoku is unique and special, but it will be remained generally the same.
OVER 72 HOURS OF PRECISION HANDCRAFTING
Each piece of Tenmokus Teaware undergoes dutiful handcrafting taking more than 72 hours to finish. Craftsmanship is very important to us: it is the high quality of our craftsman work that makes each piece of Tenmoku pottery so special. Our artisan craftsman train for years to create stunning pieces that you can both use in your everyday life and display as works of art. Each Tenmokus piece is lovingly created by hand, ensuring that each piece is truly unique.
OWN A MASTERPIECE IN TEAWARE INDUSTRY
What makes these teaware so special is both their unique shape and their specialist glaze. Juanzhan Tenmoku tea cups are bowl shaped, but with a wide brim that allows the tea to stew and cool perfectly. They are glazed at a very high heat using a glaze with a high iron content, which creates a blackened and distinctively beautiful pattern that is unique only to Jianzhan Tenmoku pottery.
ELEGENT GIFT ITEM & GORGEOUS PRESENTATION BOX
Tenmokus Tea ware masterpieces are perfectly suited to be used as elegant gift items for all occasions. You can either shop one for yourself or a loved one when there's need for a gift. These beautifully-crafted designs will serve as the ideal gift for weddings, birthday parties, Christmas get-togethers, office parties, housewarming, reunions or any family hangouts. All our tea ware comes with an elegant presentation box.
HEAT PRESERVATION & IMPROVE THE TASTE
Many people say that no matter the liquor, water or coffee, will all become more mellow and delicious when they are in a Jian Zhan Tenmoku tea cup. That is because the special functional design of Jian Zhan Tenmoku for its iron content, sand content, as well as the thickness of the cup embryo and glaze. Therefore, using Jian Zhan to drink tea, it can help to preserve the heat for a long time and to improve the alkalinity in the tea liquid, so that to ensure the taste of tea, and also stimulate and enhance the aroma of the tea.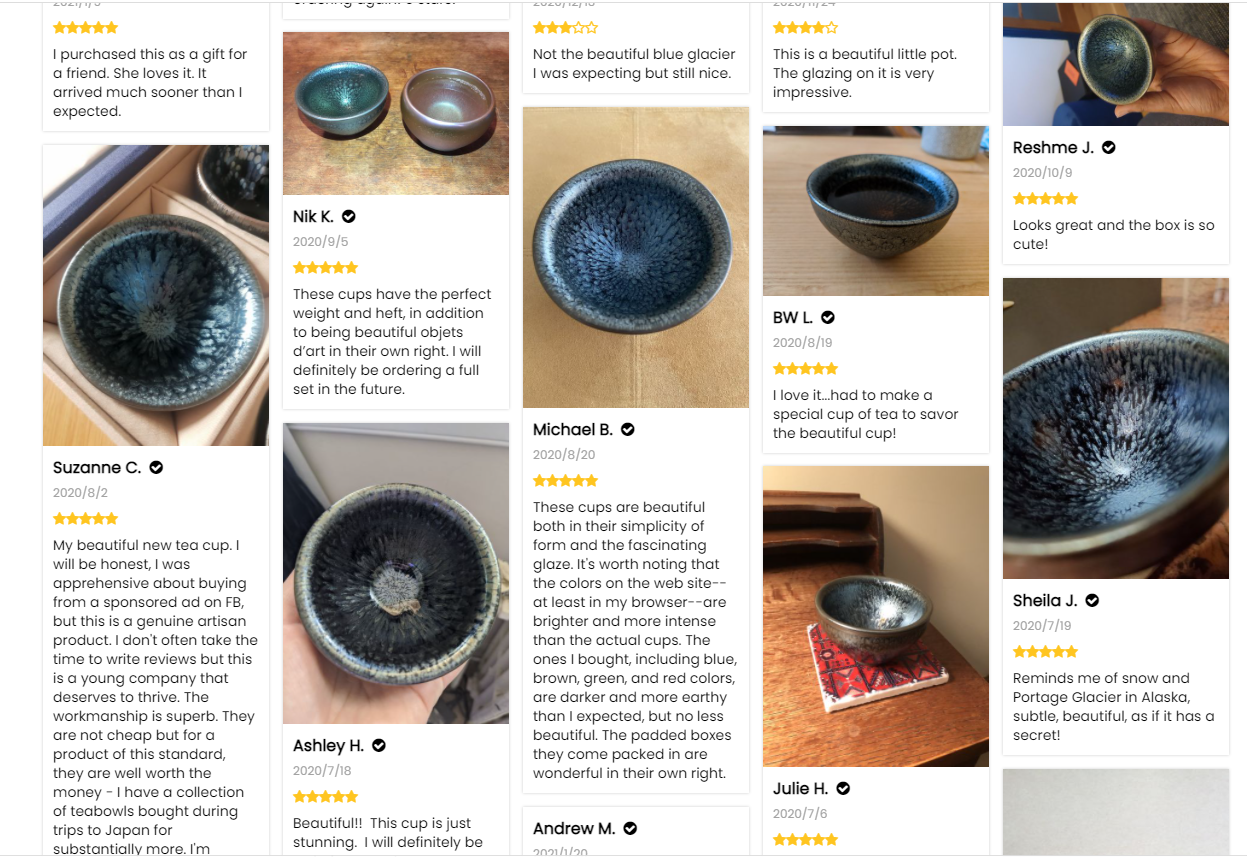 100% SATISFACTION GUARANTEE
FREE WORLDWIDE DELIVERY WHEN YOU SPEND $39.9
OVER 1,300+ FIVE-STARS CUSTOMER REVIEWS